Bert is our very own "Top Gun" with the name of "Spot". Way to go Bert and thank you for your service:
Sister Hall is an assistant to the matron of the Gilbert Arizona Temple and a former mission president companion, stake Relief Society presidency counselor, stake Young Women president, and ward Relief Society and Primary president. She was born in Kanab, Utah, to Arthur Milton and Lorana Randall Whiting.
Today's teenage boys worry about a lot of things, but being drafted to serve in a foreign war isn't one of them. At least, not yet. The Birthday Lottery, Richard Fouts' new play about the Vietnam draft, opens on March 29, 2018, directed by Suze Allen. It runs for four performances only, March 29-April 1 at Z Space, 450 Florida Street in San Francisco.
"This play highlights, in real time, what young men felt as they listened for their birth date to be announced over radio and television on the night of December lst, 1969" said playwright Fouts in a recent interview. "The order your
birthday was drawn became your draft number. A young Roger Mudd was the only broadcast journalist who covered the event, who calmly told America's young men that if they had been born on September 14th, they'd be the first to go."
Actor Nick Coleus, who plays David, commented in the play's background video, "You can feel the tension of what it must have been like to live through that excruciating night. Though it occurred 50 years ago, it feels relevant for today's young men, especially since there appears to be no end in sight around Iraq and Afghanistan. And now North Korea is in the news every day."
Playwright Richard Fouts recalls the moment when he decided to write the play. "With the 50th anniversary of the draft approaching, I've been listening to Vietnam vets tell their stories of how their lives were abruptly interrupted with the Army's sudden draft. Many of them were just 19 years old at the time. Hearing their vivid memories of that night convinced me that their stories belonged on the stage, in an intimate setting that only live theater can deliver."
Dean Collett turns 90, marking 63rd year at Highland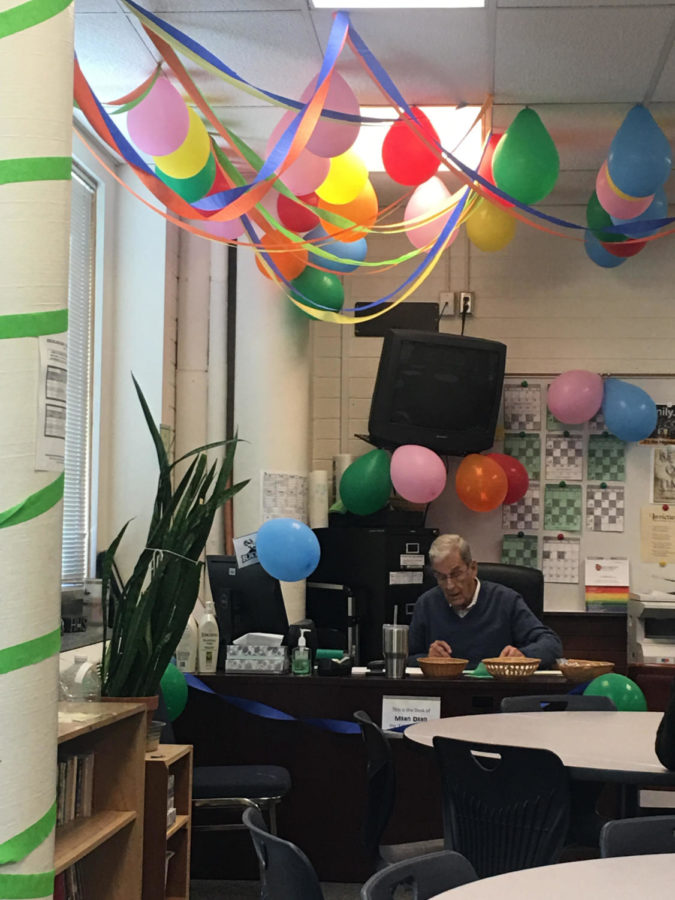 Max Torres, Staff Writer
October 16, 2018
Dean Collett turned 90 last Sunday, to which Highland celebrated with Dean Week. Dean has been working at Highland since the year it opened, his position at the school always changing. He started as a math teacher, and now is a Freshman Success counselor. When asked on his experience with Highland for 63 years, " I love this school. Each year has brought new memories and brought back old ones. I love watching my students excel, and become better." Dean's birthday was celebrated with Dean Week, which was comprised of many decorations, an ice cream party, and lots of love. With all the years of Dean's amazing service, it's no wonder this is such a big deal.
Dean started as a math teacher in 1956, the year that Highland opened. The school, has a beginner could not acquire all the normal 4 grades, so they had seventh through tenth grades which came from other high schools near Highland.
Once Highland could get students through the twelve grade, Collett was asked to teach German as well. He had served in Germany with the Army during the Korean conflict time, so the school thought he was capable of teaching that class.
Collett was then later asked to teach Russian to the students. The school really wanted a class for this foreign language, and Collett was asked to teach it. He had previously in his life served a LDS mission in Sweden, and Highland considered Swedish close enough to Russian for Collett to teach that class. To do this, he joined a class at the University of Utah to stay ahead of his class in Russian. Then, that summer he went to San Francisco State to become more in tune with the language for classes next year.
Collett held these positions in German and Russian until 1980, after which he became a counselor. Here he has stayed at Highland since.
Collett was and still is a great counselor, and has always been good at helping the students through their life at the school. He has the skill of being able to see what they need to progress and succeed at Highland. He was asked to direct the Freshman Success program, which helps Freshman get used to this new, big, and scary school. It has been very good for the students, and many other schools in the area our using it to begin their own program.
" Freshman Success is a program that helps those new students adjust to high school. We let students know how they are doing, and help them become better if they are dropping in grades".
His duties have also encompassed the faculty adviser to the cheerleaders and the yearbook. He is very devoted to this school, as in he has never missed a Highland football game!
Collett has been, and still is a major part of Highland High School. In the past and today. If you see him walking in the halls, our sitting at his desk, make sure to give him a wave. We owe him.